If you're involved in the legal transfer of a property, it's essential to understand the process, laws, and requirements so that you can make sure the transaction goes smoothly. To help you with this, here are some things you need to know about legally transferring ownership of a property.
What is the process of conveyance?
The process of conveyance involves transferring the legal title or interest in a property from one party to another. Depending on the situation, it may involve an individual or a business entity. The process typically includes steps such as title search, contract preparation, registering transfer documents, and obtaining necessary consents and approvals from relevant third parties (if applicable).
There are several important documents involved that must be carefully drafted and executed by both parties for the transfer to be legally binding. These documents include deeds, mortgages, leases, and other related contracts.
Depending on the specific circumstances of the transfer, additional documents may also be required. It is important to ensure that all documentation is properly prepared to meet legal requirements and protect your interests.
How long does legally transferring property take?
The timeframe for transferring properties can vary depending on the type of transaction being conducted. Generally, it takes anywhere from 30-90 days to complete a legal transfer. This includes collecting all the necessary documents and paperwork, obtaining approval from relevant parties, and filing the appropriate forms with the recorder's office. In some cases, such as when selling or buying a home, other steps may be required that add additional time to the process.
For instance, if a loan is involved in the transaction, then lenders must approve both buyers and sellers before officially signing off on the sale. This could take anywhere from an additional week or two to a month, depending on how quickly everything gets processed by both parties. Additionally, in some areas, there may be local restrictions that could potentially delay the transfer even further. It's important to be aware of these potential delays so that you can prepare accordingly.
What must be done?
The first step in the legal transfer of property is obtaining the title deed. This document shows who owns the property and outlines any encumbrances, such as mortgages or liens. The title deed also includes other important information, such as boundaries and restrictions on the use of the property. This document will be used by the new owner as proof of their legal rights to the property.
Once both parties have agreed on the terms of the sale, they will each need to sign the appropriate transfer documents. These documents vary depending on the type of property being transferred. They can include deeds, transfers of leasehold interests, rental agreements, or power of attorney forms. In some cases, it may also be necessary for both parties to appear before a court for an official hearing before ownership can be officially transferred.
After all relevant documents have been signed by both parties, they must then be filed with a local government office or court to become legally binding. Depending on your jurisdiction, this could involve submitting physical copies of documents or filing electronically via an online portal.
Once filed, copies of all relevant documents should be kept in a safe place in case they need to be referenced again in future legal proceedings involving the same property. After filing has been completed and documented ownership has been recorded with agencies like assessors and recorder's offices, then the new owner can take possession of their newly acquired asset.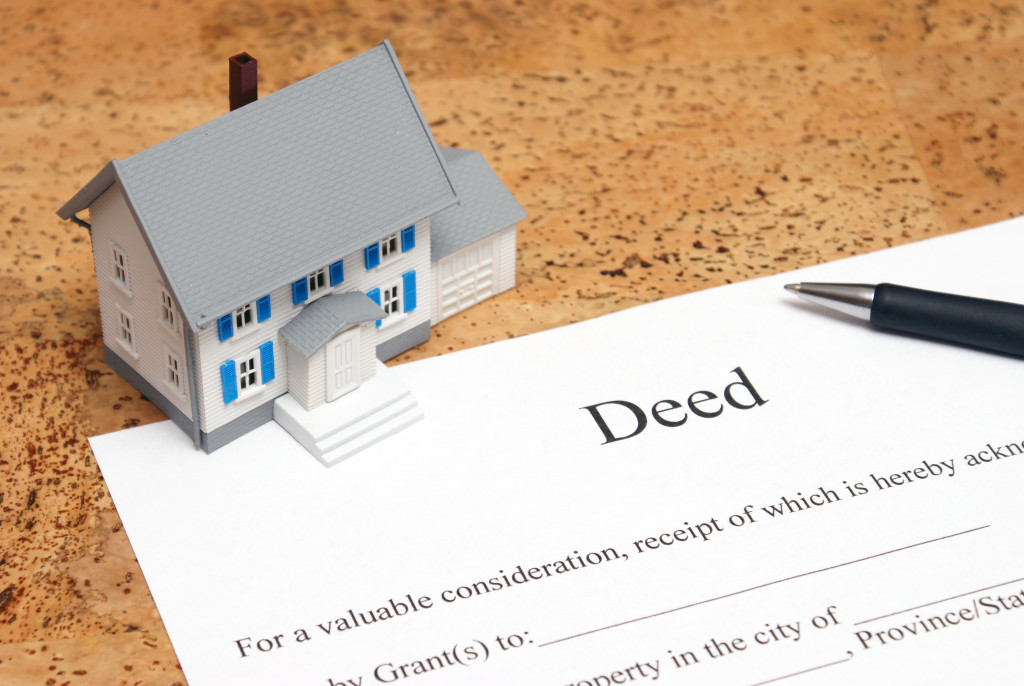 How can a conveyancing solicitor help?
Conveyancing solicitors are known for their knowledge of the area and expertise in this process. They can help you save time, effort, and money in the long run by guaranteeing that all aspects of your property transfer go through without delay or dispute.
They do this by ensuring that all legal requirements are met during your property transaction. They will advise on all conveyance aspects, such as ensuring that title deeds are up-to-date and valid, drafting contracts, negotiating terms, arranging searches, and dealing with any issues resulting from these processes. In addition, they can assist with registration procedures and liaise with third parties such as banks or building societies if necessary.
When transferring property, it is important to be aware of the process that must be followed in order for the transaction to be completed legally. Depending on the type of property and transaction, the timeframe can vary, and there may be a number of documents that need to be signed and filed with government agencies. It is also advisable to work with a conveyancing solicitor who can help you navigate the process and avoid any potential delays or disputes. This way, everyone involved can benefit from the peace of mind of knowing that everything has been done properly.