The purpose of seeking medical care is to improve health conditions and save lives. But nothing can be more alarming than encountering medical malpractice. Whether deliberately done or due to negligence, this malpractice can deteriorate the patient's health, result in an injury, or even cost a life.
Unfortunately, medical malpractice is prevalent in different parts of the world. But what about its state in the wake of the pandemic? Yes, we've raised COVID-19-related questions, such as health and safety measures, medical treatments and cures, as well as the rolling out of vaccines. But what about patients having become victims of medical malpractice during this pandemic?
In this article, we'll share with you what medical malpractice is. Keep on reading to learn more about its state in the light of the COVID-19 crisis.
Medical Malpractice in a Nutshell
Medical malpractice happens when a health professional or medical facility causes an injury, worsening health condition, or even death to a patient due to negligence. Such negligence can be brought by errors in the diagnosis, treatment, or even the aftercare of a patient.
When you or your family member has become a victim of medical malpractice, you can file a claim against the responsible health professional or medical facility. In most cases, you need to work with an attorney who can help you with the legal process of filing a lawsuit or seeking a claim.
Legal Elements to Prove Medical Malpractice
Now, let's get into the specifics of what can be considered medical practice. To establish such a malpractice, your hired lawyer must be able to prove the following four key elements:
Professional duty: The doctor or a hospital is legally responsible for providing a patient with medical care, whether through diagnosis, treatment, or aftercare. It can go from as simple as prescribing medications to as complex as performing surgical procedures.
Breach of duty: The doctor or hospital fails to adhere to the standard of care, thus causing a breach of professional duty. For instance, a physician prescribes the wrong medication, incorrectly reads the lab results, or performs an alternative medical procedure without consent.
Resulting injury: The action taken by the doctor or hospital has resulted in the injury, worsening health condition, or even death. A perfect example is a sudden, unexpected death resulting from a simple appendix removal with no valid reason for the demise.
Resulting damage: The patient's injury or death has led to significant damage to the family. This includes permanent disability, income loss, future medical expenses, as well as pain and suffering.
A Few Examples of Medical Malpractice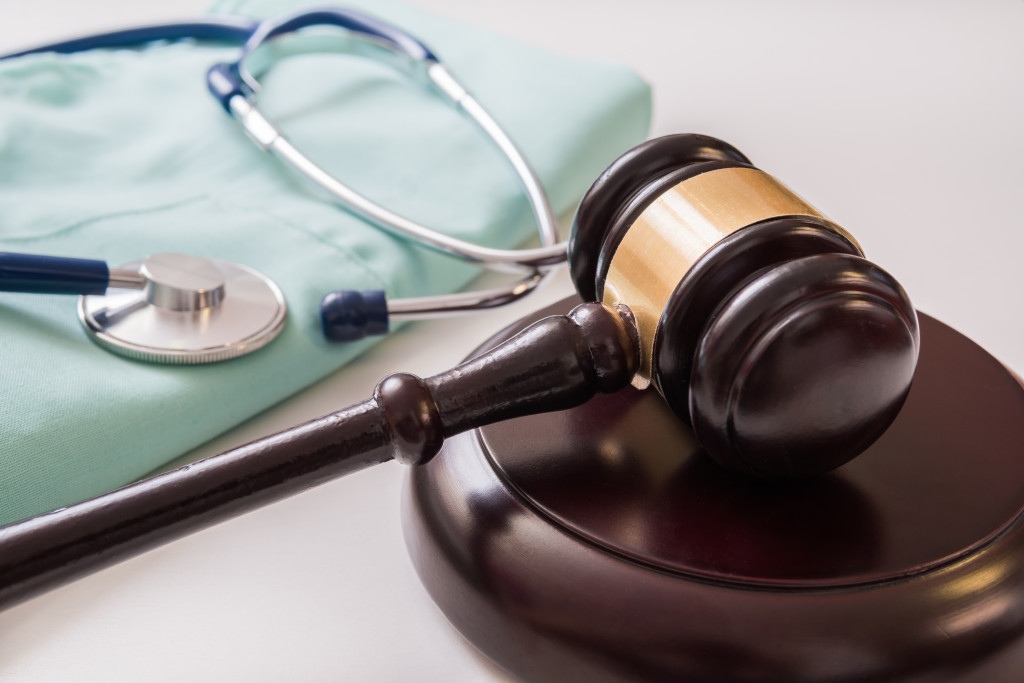 Medical malpractice can take many forms, as it varies from one medical action to another. But for your reference, here are a few common examples of medical practice.
No diagnosis or misdiagnosis
No reading or misreading laboratory and imaging results
Surgical errors
Unnecessary surgery
Incorrect or improper medication
Premature discharge
Not requiring follow-up care
Even failure to recognize symptoms
The State of Medical Malpractice in the Pandemic
There's no denying the impact of the COVID-19 crisis on the health industry. As of the time in writing, there are 253,163,330 confirmed COVID-19 cases with 5,098,174 deaths worldwide. For this reason, the health sector has continuously moved to combat the spread of the various strains of the novel coronavirus. On top of this is to treat millions of patients and save millions of lives.
As the pandemic is brought about by the new infection, all stakeholders involved struggle to set the standard medical care, which health professionals and medical facilities fail to follow. In line with this, many patients with pre-existing medical conditions get neglected to prioritize those with COVID-19 infection. It is, for these reasons, that medical malpractice claims have arisen during this pandemic.
Currently, it's hard to see if there's a rise in medical malpractice claims while we're still in a pandemic. We'll most likely see the facts and figures on medical malpractice by the next few years or so. But one thing is certain: some patients will probably file for pandemic-related claims. If you or your loved one has become a victim of medical practice, know that you have the right to file a claim. As such, the initial step is to hire a lawyer, and everything follows.
Working with a Lawyer
There is nothing more frustrating and disheartening than becoming a victim of medical malpractice. Whether you or your family member has been affected, you must take proper actions and seek the right compensation. However, be sure to understand what medical malpractice entails and consider the four elements discussed above to prove such malpractice. Ultimately, you must work with a highly reliable lawyer who can help you every step of the way.